---
Our membership program, designed around our brick-and-mortar local customers, is also now available to online customers who wish to participate.

---
WHAT IS THE FERMENTERS COMMUNITY MEMBERSHIP PROGRAM?
The Beverage People has organized a Membership Program that will immediately give you 15% OFF all our goods for one full year---everyday, every item in stock. With everyday price levels set at competitive rates in our industry, the membership will ensure that you are getting excellent deals every purchase while helping support your shop with your highly valued patronage. The annual membership is $40 per year. Enroll using the link above or during your next visit to our retail warehouse.
PLUS, THE PROGRAM IS SPONSORED BY GREAT LOCAL BREWERIES! In addition to great deals at The Beverage People, several supporting breweries in Sonoma County are offering our members 10% off when you present your membership card---Bear Republic in Healdsburg and Rohnert Park, GravSouth Brewing in Cotati, Shady Oak Barrelhouse in downtown Santa Rosa, and Woodfour Brewing in The Barlow in Sebastopol, and No Quarter Brewing in Windsor! Please join in and give your support to the Fermenters Community and start receiving the support of these great breweries.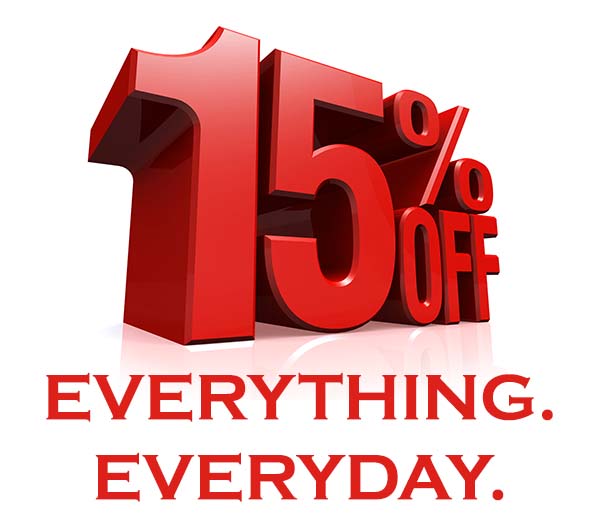 THERE'S MORE...
BENEFITS DETAILS
15% OFF Everything In Store, Everyday
When you shop in-store or our website, your entire bill for purchase of goods purchased from our stock will have the price reduced by 15% at checkout. Discount may be applied on top of published quantity-based price breaks such as cases of wine bottles. Discount will not be applied to special orders items or purchases which receive deeper discounts such as occur during membership sales or for product close-outs.
20% OFF EVERYTHING Sales - Two Times Per Year
Twice per year, for Father's Day and Small Business Saturday (Sat after Thanksgiving), we will have a Members-Only sale on EVERYTHING IN STOCK at 20% OFF! Special-order items are not included in this sale. This will offer our members a regularly recurring opportunity to save big while setting up themselves, and perhaps friends and family, with great hobby gear and supplies. 20% discount will be applied to standard retail prices.
PERHAPS BEST OF ALL...SPONSORING BREWERY DISCOUNTS!
When you join the membership program, you will receive a Fermenters Community Card. When you present it at the following Sonoma County breweries, you will receive discounts. The 10% OFF and Happy Hour offers shown below will be applied to beer, food, and/or merchandise as appropriate and as determined by the sponsor. To maximize the benefits of your Fermenters Community Membership and the value of our local sponsors, The Beverage People will keep you updated monthly with new events, beers, and developments at the brewery and brewpub participants. What fabulous and supportive breweries are sponsoring?
10% OFF Beer, Food, and Merch at their brewpub located on Roberts Lake in Rohnert Park.
10% OFF Beer, Food and Merch at their brewery located in Cotati at the corner of Gravenstein Hwy and Redwood Drive across from Lowe's.
10% OFF Beer at their brewery located in the heart of downtown Santa Rosa.
10% OFF Beer, Food, and Merch at their brewpub located in The Barlow in Sebastopol.
Happy Hour Prices at Any Time at their brewpub located in the Raley's shopping center in Windsor.