Paneer Recipe & Experiments
Paneer is Easy And Fun for Experimentation
Recipe by The Beverage People with discussion by Kathy Laurie

It's so easy that you can start making it after lunch and serve it for dinner! It will keep for a couple of weeks in a closed container in the refrigerator. Yields about 1 1/2 lbs.
Paneer (also spelled Panir) is one of the easiest cheeses to make. It is a perfect cheese to begin with if you have never made cheese before. There are no special ingredients needed, just milk and lemon juice. The equipment items needed are all typically found in a household kitchen. It is one of the few cheeses that doesn't melt so can be used in many ways that most cheeses cannot.
The recipe (click here or the pdf link above) is easy to follow and has lots of information and suggestions. I would only add a couple of hints. When the milk comes to a boil, it really foams up quickly so be sure to use a pan that can accommodate the large increase in volume.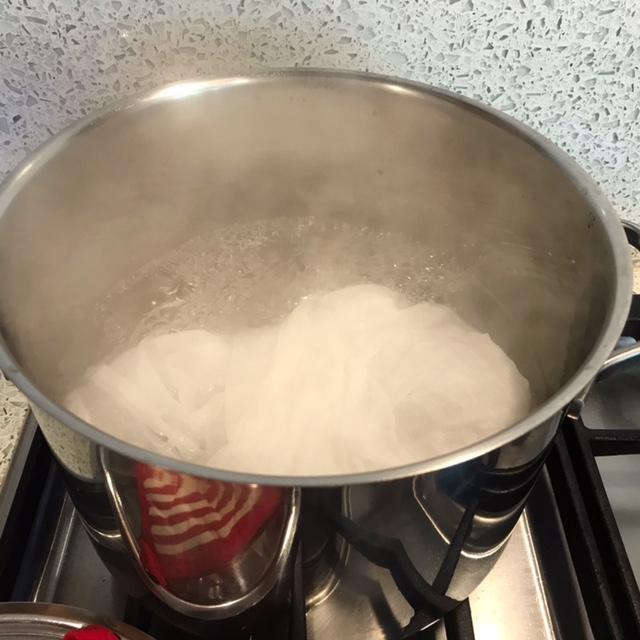 Also I have shown a picture of the separated curds and whey for those who are new to cheese making.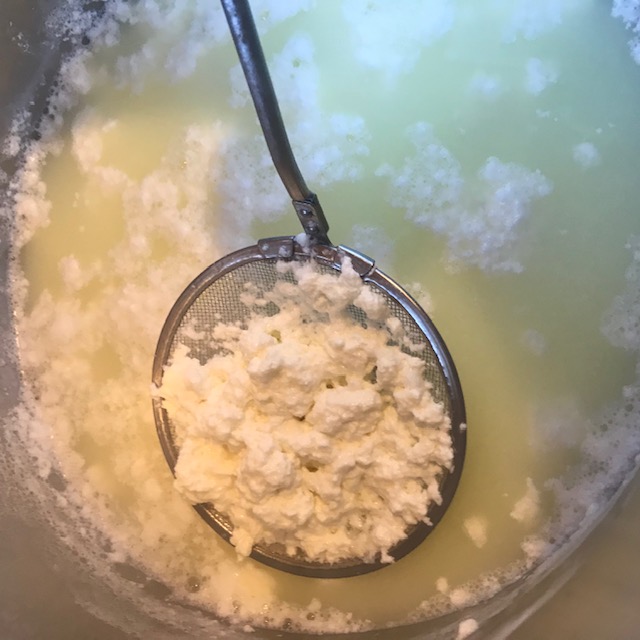 Most of my tasters agreed that it needed more salt so you might want to add a little more.
In the Cooking With Cheese section of our website are three delicious recipes to make with your Paneer. These main course recipes, Lababdar Paneer, Asparagus Panir and Asparagus Paneer with Eggs are all easy and delicious Indian recipes. There are also lots of recipes for the traditional Saag Paneer in many online sites.
We regularly meet with neighbors for drinks in the driveway while socially distancing (Editor's Note: this discussion was authored in January 2021). I decided to use my batch of Paneer to experiment with appetizers while I had tasters available. My first offerings were mostly cold. First, while the Paneer was warm, I mixed curry powder into some of it. We all agreed that was delicious spread on warm flour tortillas! And so easy! Also try mixing in orange peel, chili powder or smoked paprika. After it was drained and cooled so I could slice it, I wrapped some with ham (nobody thought it was very special), some with salami (now that's much better!) and some wrapped in bacon and baked (of course that was delicious). The last offering was Paneer on a cracker with a dab of honey (yes it was excellent).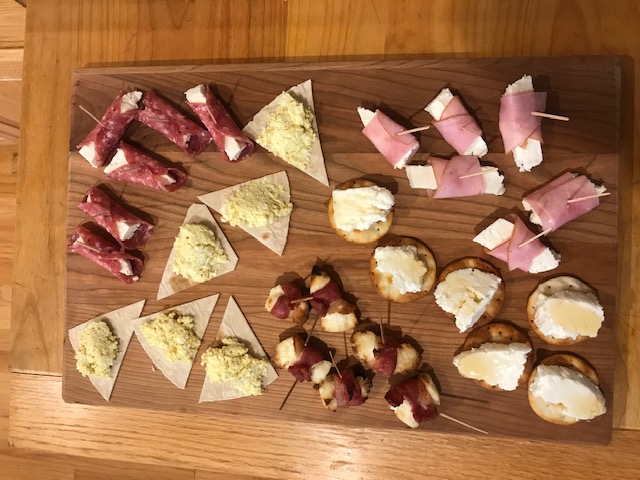 My next venture was to see how I could serve it fried. I cut squares and sautéed them in a little butter. Eaten alone they were a little boring but were delicious with a dab of Sriracha. The possibilities are only limited by your imagination.
This is an easy and fast cheese to make and has such versatility that I plan to start making this regularly and experimenting with what else I can make with it.
The other really easy cheese to make is Ricotta. Try that one too. You will be shocked at how much better it tastes than the grocery store variety!