Quick Mozzarella
Great Mozzarella in a Hurry... Cheese in Just 30-40 Minutes!
by The Beverage People
Even the first time out, it took only 42 minutes from start to finish. The cheese was delicious, melted nicely, and provided a good yield.

-Bob Peak of The Beverage People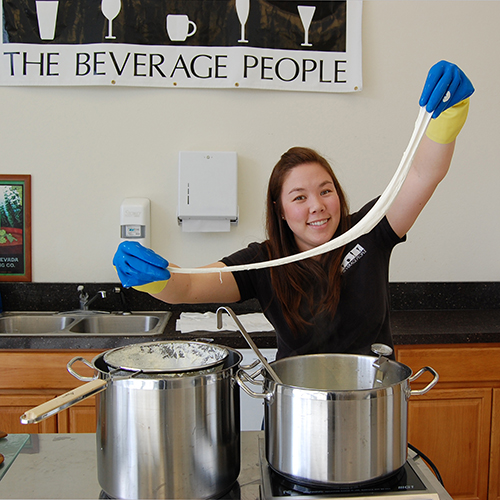 If you are an experienced cheesemaker and are looking for a cultured, soft traditional mozzarella recipe, click here. The soft, cultured recipe is not for beginners.
Ingredients
1 gallon local non-homogenized Cow's milk (this is sometimes labeled Cream Top)
1/2 Tbsp. Citric Acid dissolved in 1/4 c. water
1/4 tsp. or 24 drops Liquid Rennet, in 1/4 c. water
1 Tablespoon Dry Milk Powder
Equipment
Neoprene-coated latex stretching gloves
5" Stainless Steel dial-top thermometer
Large Stainless Steel Double Boiler or Heavy Bottom Pot (plus a 2nd pot for whey)
Perforated Ladle or Slotted Spoon
Optional but recommended: Sous Vide Immersion Heater/Circulator provides an ideal heat source. Click for discussion.
Large Bowl
Basic Knowledge Review (optional)
The Universal Guide to Cheesemaking
Tips - Cheesemaking Do's and Don'ts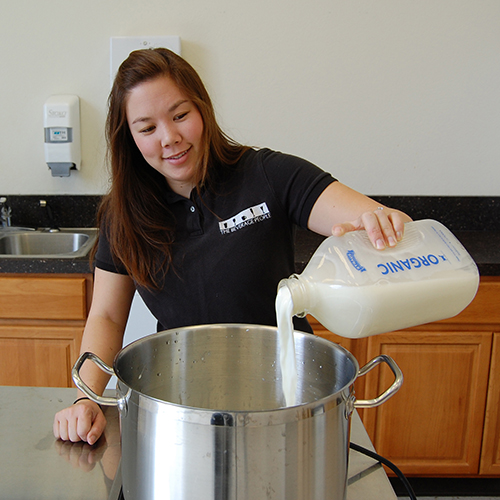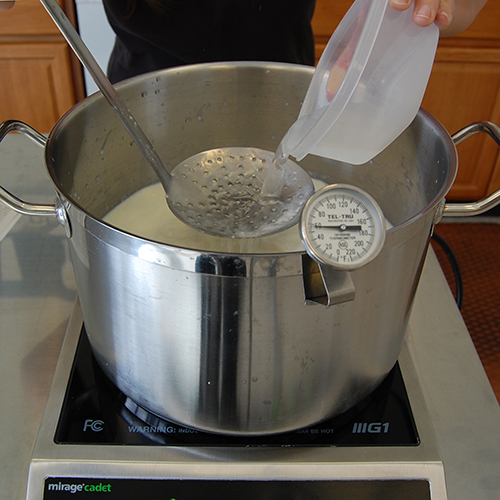 Yield: about 1 lb
Method
Warm the milk to 55° F., and gently stir in the dissolved Citric Acid and dry milk powder.
Slowly heat to 88° F over low to medium heat. The milk will begin curdling.
Stir in the Rennet water with 20 top/bottom strokes, while raising the temperature to 100-105°F. Turn off the heat. Within 3-5 minutes, you should see the curds begin pulling away from the sides of the pot. They will resemble yogurt, and be slightly shiny.
Remove the curds from the whey but reserve the whey in another stockpot. You may lift the curds out of the whey with a slotted spoon or perforated ladle, or you may pour the curds and whey through a stainless steel mesh strainer, catching the whey in the second pot.
Heat the whey to 180°F. Put on your gloves and shape some of the curd into a ball, set it on a ladle, and dip the ladle into the whey for about 10 seconds. Continue to knead the curd together and dip the curd into the hot whey. The curd needs to reach 145° all the way to the center of the ball before it will stretch - repeat dipping until it will stretch. Monitor the heat of the whey, increase or decrease the heat to keep the temperature near 180° F.
Knead until the cheese is smooth and elastic. Once it is stretchy, flatten the curd and sprinkle with kosher salt and fold the salt in. Knead and return to the whey one more time.
When the cheese has become smooth and shiny, and pulls like taffy it is done. Shape into balls. Place them in ice water for about 5 minutes to bring the inside temperature down. If you don't eat it right away cover and store in the refrigerator.