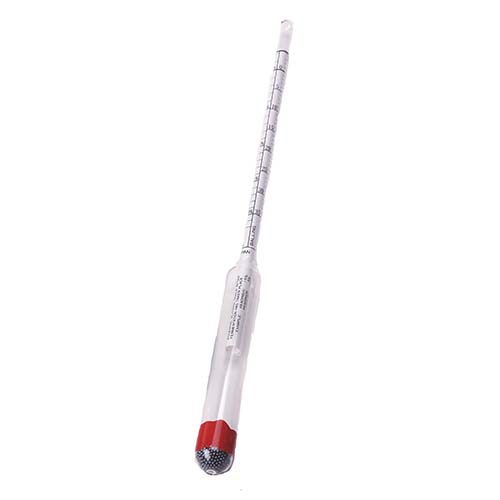 Economy Hydrometer- Three Scale - Tested "Grade B"
Average rating:

Read all reviews
*Pricing Schedule:
TE40
This sugar tester, also known as a saccharometer, allows brewers, winemakers, meadmakers, and cidermakers to estimate and calculate their alcohol content by volume. It has scales for Specific Gravity, Brix (Balling) and Potential Alcohol.
Specifications
About our in-house hydrometer testing at The Beverage People:
Economy hydrometers may not be precisely accurate. Some of them are accurate, but others are slightly off and will benefit from testing and potentially adjusted readings based on that testing. All hydrometers should read at 0% sugar or 1.000 specific gravity in distilled water at calibration temperature which is generally 60°F or 68°F. To assist our customers, The Beverage People now provides this testing on our economy hydrometers.
Grade A - Accuracy within range: ±0.001
Grade B - Accuracy within range: >±0.001
Both grades of hydrometer may be used accurately. The difference is that with a Grade B hydrometer, we recommend you make a calculated correction to your measurements. We provide you with our hydrometer accuracy test results so you may make this correction each time you use it.
Average rating:

Read all reviews
Featured positive reviews:

Great place to shop!
08/27/2021
This was a small purchase but wanted to review the store in general. Can't say enough about how helpful they are, answering all my questions...even the dumb ones! This is definitely the go-to place!