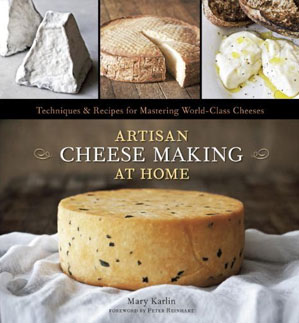 Artisan Cheesemaking At Home by Mary Karlin (9781607740087)
Average rating:

Read all reviews

*Pricing Schedule:
Members receive 15% OFF all items, everyday, for the entire year of their membership period.Click for details.
CH98
This comprehensive manual on cheesemaking at home covers beginning and advanced cheesemaking as well as a chapter on Cooking With Artisan Cheese. Author Mary Karlin is a friend of The Beverage People, and many of us contributed to the development of the book with recipe testing, recipe contribtutions, some research and other tidbits. We are very pleased and excited that the book is now available to the public! Culture magazine has written: A mind boggling array of books on home cheesemaking have appeared on the market, but few have we so wholeheartedly recommended as Artisan Cheese Making at Home by Mary Karlin, a veteran cooking teacher. We think this book is an ideal way to begin or advance your adventures in home cheesemaking.
Pickup Locations Available for This Item
The Beverage People Warehouse, Santa Rosa.
Fulfillment occurs Tues - Sat, 9 AM - 5 PM. We aim to fulfill orders in 2 hours or less, whenever possible.
Shipping Details
Qualifies for Free or $10 Flat Shipping! To trigger FREE SHIPPING in your cart, ensure you have met the $79 minimum and have omitted any ineligible items that are subject actual shipping charges. To trigger $10 FLAT RATE SHIPPING, simply ensure you have omitted any ineligible items.
Returns
How to Return Goods for Refund
All our supplies are guaranteed for one year. Request for refunds occurring more than 30 days after the date of purchase on non-defective goods may be granted as a store credit if the goods are returned in their original condition. Yeast is perishable and should be refrigerated on arrival. No refunds are allowed on sales of living organisms such as yeast and bacteria.
Average rating:

Read all reviews
Featured positive reviews:

Fantastic book
04/08/2019
Very happy with this book. Full of great information.