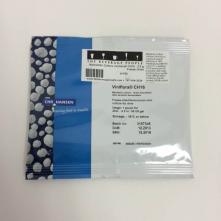 Malolactic Bacteria Culture - Viniflora CH16 - Freeze Dried - Treats up to 66 Gals
Average rating:

Read all reviews

*Pricing Schedule:
Members receive 15% OFF all items, everyday, for the entire year of their membership period.Click for details.
WY52
Malolactic Culture Viniflora CH16 has a maximum alcohol tolerance to 16%. Temperature preferred is 62-77F. In addition. CH16 shows low VA production with clean and fruity flavor profile. Under difficult stress conditions, Acti-ML nutrient (QR38) should be used. Viniflora CH16 is a frozen culture that should always be inoculated directly into the wine. No rehydration or reactivation is required. DO NOT THAW THESE CULTURES. Prolonged exposure to temperatures above -18 C (-0.4 F) before inoculation will damage the quality of the cultures. Make sure that the culture is added to the liquid phase of the wine and is completely dissolved in the wine.
You might also need...
Acti-ML Bacteria Nutrient - 50 g - treats 66 gallons.

Average rating:

Price**

Vertical MaloLactic Chromatography Kit with 6 sheets.

Average rating:

Price**
Specifications
Alcohol Tolerance: 16% ABV
Total SO2 Tolerance: 50 ppm Total
pH Tolerance: Down to pH 3.4
Max. Inoculation Volume: 66 Gal.
Ideal operating temperature: 62-77 F
Average rating:

Read all reviews
Featured positive reviews:

Viniflora CH16
09/09/2018
This product has worked great for me I think more people Should use it particularly with high acid hybrids. Don't be scared off of trying MLF. I use Accuvin Malolactic Acid test to confirm Acid presents and depletion. Also, make sure conditions are right for MLF to start, proper PH and SO2..... I observe Acid conversion and a very significant Taste improvement in the wine.