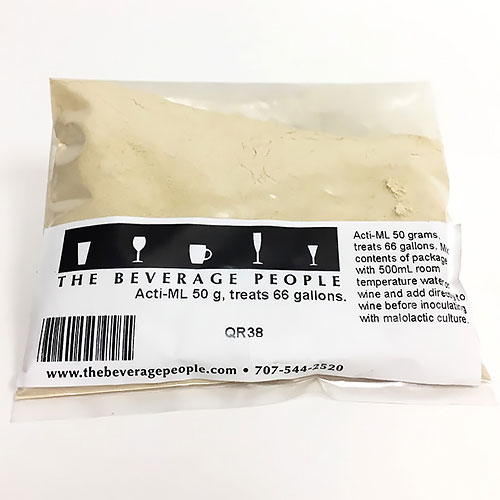 Acti-ML Bacteria Nutrient - 50 g - treats 66 gallons.
Average rating:

Read all reviews

*Pricing Schedule:
Members receive 15% OFF all items, everyday, for the entire year of their membership period.Click for details.
QR38
Acti-ML 50 grams, treats 66 gallons. Mix contents of package with 500mL room temperature water or wine. If your ML bacteria requires rehydration such as is the case with Enoferm cultures, add the bacteria to the mixture for rehydration before inoculation. If your ML bacteria is prepared for direct addition into the wine without rehydration such as is the case with Viniflora CH16, add directly to wine before inoculating with malolactic culture.
Pickup Locations Available for This Item
The Beverage People Warehouse, Santa Rosa.
Fulfillment occurs Tues - Sat, 9 AM - 5 PM. We aim to fulfill orders in 2 hours or less, whenever possible.
Shipping Details
Qualifies for Free or $10 Flat Shipping! To trigger FREE SHIPPING in your cart, ensure you have met the $79 minimum and have omitted any ineligible items that are subject actual shipping charges. To trigger $10 FLAT RATE SHIPPING, simply ensure you have omitted any ineligible items.
Returns
How to Return Goods for Refund
All our supplies are guaranteed for one year. Request for refunds occurring more than 30 days after the date of purchase on non-defective goods may be granted as a store credit if the goods are returned in their original condition. Yeast is perishable and should be refrigerated on arrival. No refunds are allowed on sales of living organisms such as yeast and bacteria.
Average rating:

Read all reviews
Featured positive reviews:

Great Wine Suppliers
10/04/2022
I have been making wines for 20 years and using Bev People all that time. They are easily the most valuable resource for home wine makers with excellent service,product availability, very competitive prices and hands on knowledge of the process willing to share and educate. The added value is the entire staff is friendly and knowledgeable. They are a long-time LOCAL company with community involvement not part of the cookie cutter corporate marketplace. Amen.