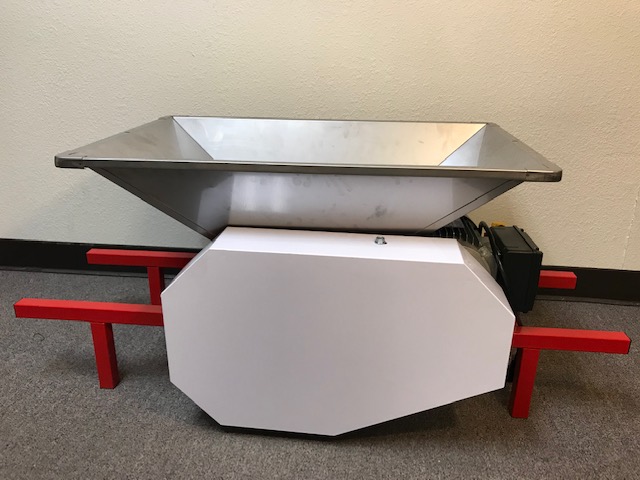 SOLD OUT FOR 2023 - UNAVAILABLE WITH UNKNOWN ETA - Motorized Apple Cutter & Crusher - SS Knives - 75cm x 50cm hopper
*Pricing Schedule:
10154
Motorized fruit crusher particularly suited for apples and pears. Aluminum rollers. Knives cut up apples and then the rollers pulverize.
Specifications
Includes stainless hopper extension set. See picture #4. Capacity 60 liters (15.75 gallons).
Motor is 0.75 HP.
Pickup Locations Available for This Item
The Beverage People Warehouse, Santa Rosa.
Fulfillment occurs Tues - Sat, 9 AM - 5 PM. We aim to fulfill orders in 2 hours or less, whenever possible.
Shipping Details
Item is eligible for FLAT RATE FREIGHT options in the contiguous 48 states. Flat rate freight is available from $250 for shipments on a pallet no higher than 38" high and no more than 200 lbs to a commercial address with a forklift or dock available. Additional items may be added to the pallet at no additional cost until the limits are reached.
Returns
How to Return Goods for Refund
All our supplies are guaranteed for one year. Request for refunds occurring more than 30 days after the date of purchase on non-defective goods may be granted as a store credit if the goods are returned in their original condition. Yeast is perishable and should be refrigerated on arrival. No refunds are allowed on sales of living organisms such as yeast and bacteria.