Marchisio 80 L / 21 Gallon water bladder presses offer high quality manufacturing and modern features that ratchet presses can't match. Water bladder presses are easy to use, they get better juice extraction than ratchet style presses, and are more gentle on the fruit. Dry ice may be placed within the press shroud to minimize O2 contact while pressing, aiding in color preservation in both red and white wines. Water bladder presses are ideal for pressing grapes, and were originally designed for pressing apple pulp with optimal extraction. They have also been used for herbal tinctures, de-watering marinated vegetables, pressing honeycomb, and many other applications. A garden hose to hose barb connection PS04 and a short piece of tubing makes attaching a garden hose simple.
MANUFACTURING
Built in Northern Italy by Fratelli Marchisio S.P.A., one of the world's leading manufacturers of both hobby and professional equipment for winemaking, olive oil processing, and other food preservation. They manufacture equipment reliably with long experience in their use, and at competitive prices. For the home hobbyist, they can be relied on for all the heavy equipment and storage tanks needed in your winery, without breaking the bank. At The Beverage People, we feel a particular kinship with this company. After all, our wine industry in Sonoma and Napa Counties is largely the byproduct of the Italian emigrants of the mid-nineteenth century and their knowledge of grapes and wine. We are happy that the winemaking connections from Italy to California continue today.
Specifications
Marchisio water bladder presses include:
Complete press assembly Inner mesh bag (to keep fruit from getting in the stainless basket and make cleanup easier)
Plastic "spray-protection bag" to keep juice from squirting out
Fittings to connect garden hose
Instruction manual
Presses ship with legs removed in a box. Minor assembly (attaching legs) is required before use.
Specifications for 80 Liter press: Basket height: 23.5" Overall height: 42.5" Actual weight: 91 pounds
How to Use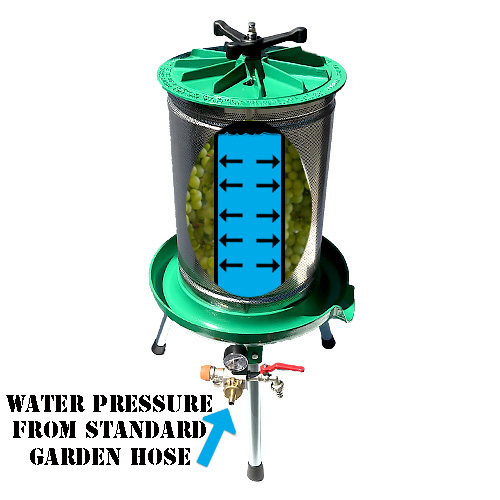 Operating Instructions:
Remove press lid.

Install the included green mesh liner on the inside of the press. The mesh helps to ensure the holes of the basket don't clog as well as aiding in clean up.

Place a sanitized receiving vessel under the drain spout to catch any free run.

Fill mesh bag with grapes, must, or apple pulp. **PRESS BASKET MUST BE FULL TO AVOID DAMAGE TO BLADDER** If you do not have enough pressing material to fill the cavity, you may either partially inflate the bladder with water before filling or add pomace from a previous pressing to make up the deficiency.

Re-install press lid, making sure it is secure.

Cover press with plastic press shroud.

Attach a hose to the water inlet.

Use a screwdriver to loosen the pressure relief at the top of the press.

Slowly open the water flow to the press.

When water comes out of the pressure relief, the bladder is full and the pressure relief should be tightened again.

Pressing will now begin as the bladder expands with water. Be sure to watch the pressure gauge, keeping the pressure below 43 PSI.

The pressure relief valve is designed to release water if the pressure is too high. If the valve is triggered, lower the pressure from your garden hose until the valve is no longer expelling water.

Pressing is complete when juice no longer flows from the drain spout. The water can now be turned off and water drained from the bladder using the red lever beside the pressure gauge.

Take off the plastic shroud and lid, remove pomace from the basket.

If more pressing is to be done, reload the press and repeat steps 1-14.

Spray down all components of the press including mesh bags.

Let everything dry before storage.

If you haven't done so already, open a bottle of last year's wine and take time to appreciate a job well done.
Warranty
The Beverage People provides a 1 year warranty. Replacement parts available.
Pickup Locations Available for This Item
The Beverage People warehouse, Santa Rosa.

Fulfillment occurs Tues - Sat, 11 AM - 5 PM. We aim to fulfill orders in 2 hours or less, whenever possible.

No Alternative Pickup Locations available for this item.
Shipping Details
Item is eligible for FLAT RATE FREIGHT options in the contiguous 48 states. Flat rate freight is available from $250 for shipments on a pallet no higher than 38" high and no more than 200 lbs to a commercial address with a forklift or dock available. Additional items may be added to the pallet at no additional cost until the limits are reached.
Returns
How to Return Goods for Refund
All our supplies are guaranteed for one year. Request for refunds occurring more than 30 days after the date of purchase on non-defective goods may be granted as a store credit if the goods are returned in their original condition. Yeast is perishable and should be refrigerated on arrival. No refunds are allowed on sales of living organisms such as yeast and bacteria.