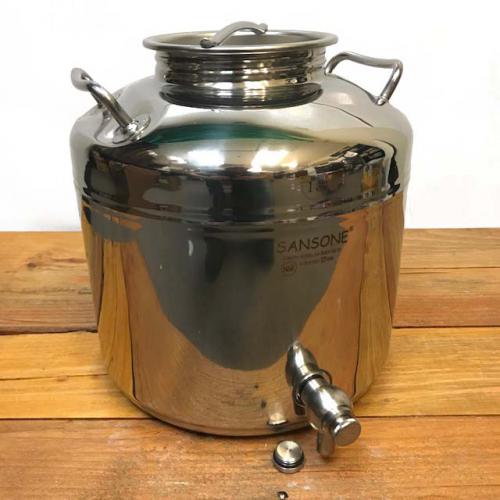 Sansone Europa Fusti - 15 liter SS Tank - Type C

*Pricing Schedule:
Members receive 15% OFF all items, everyday, for the entire year of their membership period.Click for details.
10173
This 15 liter - 3.95 gallon - SUPER Fusti stainless steel storage tank is manufactured by Sansone in Italy. It is constructed of 18/10 stainless steel and has been fitted with strong weldless handles - much sturdier than the handles on the economy fustis and without the exposed welds on the inside. This Type C Sansone Fusti has a removable, gasketed screw in the lid which allows adjustment for quick dispensing, and also may be tightened to a seal.
Specifications
Included features:
Highly polished, beautiful exterior surface.
Extra strong weldless handles.
Attractive "No-Drip" Stainless Spigot.
Sealable, adjustable air intake screw in the lid.
How to Use
About Fusti tanks: Fusti tanks make wonderful storage vessels for olive oil, vinegar, wine, milk, and any other liquids you wish to dispense. Stainless steel construction means ease of cleaning and sanitizing, as well as protection from light exposure. The gasketed lid forms an airtight seal, minimizing the contents' exposure to oxygen.
Materials/Ingredients
Stainless Steel 18/10.
Pickup Locations Available for This Item
The Beverage People Warehouse, Santa Rosa.
Fulfillment occurs Tues - Sat, 9 AM - 5 PM. We aim to fulfill orders in 2 hours or less, whenever possible.
Shipping Details
Item is not eligible for FREE or $10 FLAT shipping. Standard shipping rates apply.
Returns
How to Return Goods for Refund
All our supplies are guaranteed for one year. Request for refunds occurring more than 30 days after the date of purchase on non-defective goods may be granted as a store credit if the goods are returned in their original condition. Yeast is perishable and should be refrigerated on arrival. No refunds are allowed on sales of living organisms such as yeast and bacteria.