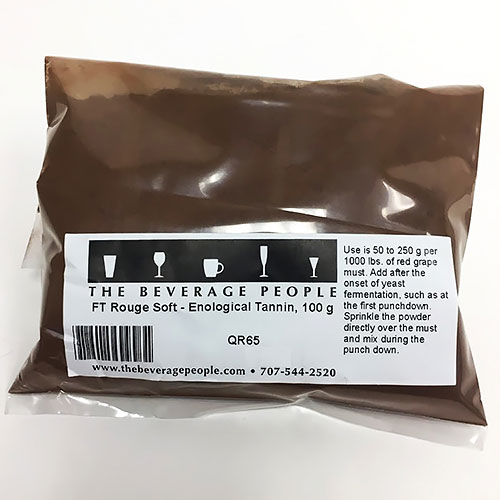 FT Rouge Soft - Enological Tannin, 100 g
Average rating:

Read all reviews

*Pricing Schedule:
Members receive 15% OFF all items, everyday, for the entire year of their membership period.Click for details.
QR65
FT Rouge Soft was specifically designed to enhance Pinot Noir and other early harvest reds. Use FT Rouge Soft to give your Pinot Noir a gentle boost in mouthfeel and color while suppressing bitter and astringent qualities. This is a popular product as it tends to enhance and preserve fruit like aromas and flavors.
Specifications
Appropriate for: Red and Fruit Wines
Effects: Color Stability, Improved Mouthfeel
Tannin Source: Quebracho wood tannin product
Dosage Rate: 1 - 3 g per 5 gal
Addition time: During punchdown
Average rating:

Read all reviews
Featured positive reviews:

Great Service
09/15/2020
They are the only place with FT Rouge Soft in reasonably sized small packages, and their delivery was very quick. Thanks, John in SD