GO-FERM STEROL FLASH™ is a revolutionary yeast rehydration nutrient that is fast and simple to use without compromising on yeast health and performance.
Benefits of Sterol Flash include:
Allows yeast to be rehydrated in cool water (15°C/60°F) without any loss of viability or vitality.
Eliminates the need for acclimatization steps. Rehydrated yeast can be added directly to juice or must after 15 minutes.
Improves fermentation kinetics and aroma production.
Non-clumping, instantly disperses in cool water.
Derived from autolyzed yeast, GO-FERM STEROL FLASH provides optimized levels of micronutrients (vitamins and minerals) and extremely high levels of survival factors including sterols and unsaturated fatty acids.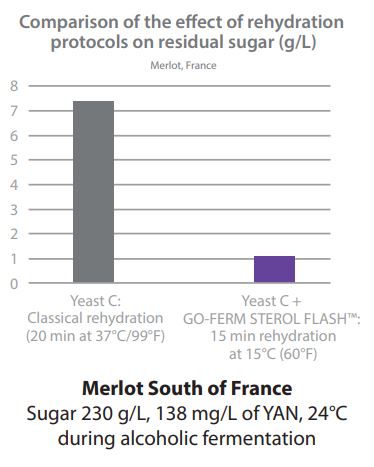 Go-Ferm has been developed as the result of a multi-year study of prob­lem fermentations by Lallemand and National Agricultural Research Institute (INRA) in France. Their scientists found that in problem musts deficiencies in sterols and polyun­saturated fatty acids can leave yeast susceptible to osmotic shock, ethanol toxicity, temperature and other stress factors. The Go-Ferm product line has been continually improved through the years with updates variously known as Go-Ferm, Go-Ferm Protect, Go-Ferm Protect Evolution, and now Go-Ferm Sterol Flash.
Go-Ferm Protect incorporates sterols and polyunsaturated fatty acids (for cell protection) together with vitamins and minerals to help ensure yeast survival and to help main­tain fermentation activity to completion.