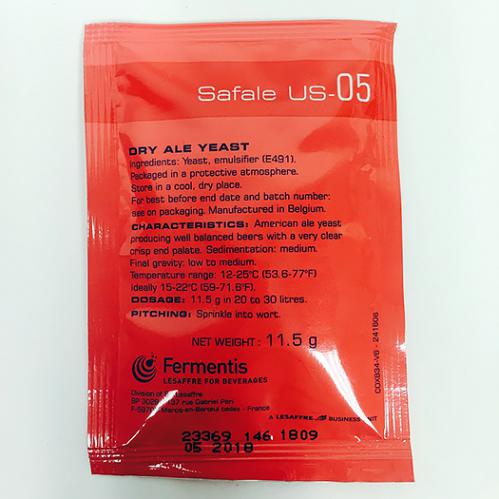 SafAle US 05 Dry Ale Yeast 11.5g
Average rating:

Read all reviews

*Pricing Schedule:
Members receive 15% OFF all items, everyday, for the entire year of their membership period.Click for details.
BY16
SafAle US 05 Dry Ale Yeast by Fermentis is one of the most popular dry ale yeasts for homebrewers due to its versatility, low diacetyl production, clean ester profile, and high attentuation even in strong beers. It can be fermented cleanly at somewhat higher temperatures than other yeast strains. It is well suited for hoppy and strong ales. This strain is very similar to the popular liquid strains #1056 American Ale from Wyeast and WLP001 California Ale from White Labs.
Specifications
Brand: Fermentis
Strain Origin: USA
Flocculation: medium
Temperature Range: 64-82 °F - ideally below 75°F
Attenuation: about 80%
Ester/Phenol Production: low
Alcohol Tolerance: high
Average rating:

Read all reviews
Featured positive reviews:

Safale US-05
01/28/2022
Safale US-05 is a work horse yeast that easily produces clean IPAs. I keep these in stock for when I have a fermentation issue or brew an ale spontaneously.