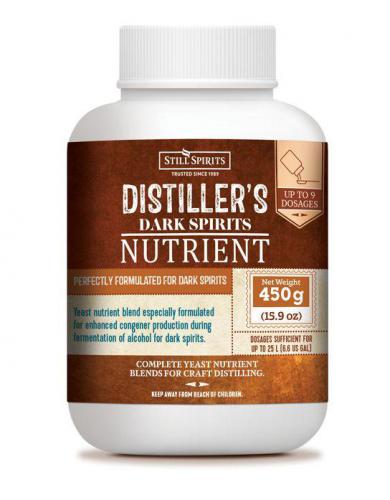 Still Spirits Distillers Nutrient for Dark Spirit - 450g

*Pricing Schedule:
Members receive 15% OFF all items, everyday, for the entire year of their membership period.Click for details.
10646
This is a yeast nutrient blend especially formulated for enhanced congener production during fermentation of alcohol for dark spirits. By utilizing this nutrient in your wash, you may experiment with yeast strains. This nutrient will ensure that your fermentation provides the food your chosen yeast needs to successfully complete its work.
How to Use
Usage rate is about 30 grams in a 6 - 7 gallon wash. This container has enough nutrient for about 100 gallons total of fermentation.
Pickup Locations Available for This Item
The Beverage People Warehouse, Santa Rosa.
Fulfillment occurs Tues - Sat, 11 AM - 5 PM. We aim to fulfill orders in 2 hours or less, whenever possible.
Returns
How to Return Goods for Refund
All our supplies are guaranteed for one year. Request for refunds occurring more than 30 days after the date of purchase on non-defective goods may be granted as a store credit if the goods are returned in their original condition. Yeast is perishable and should be refrigerated on arrival. No refunds are allowed on sales of living organisms such as yeast and bacteria.