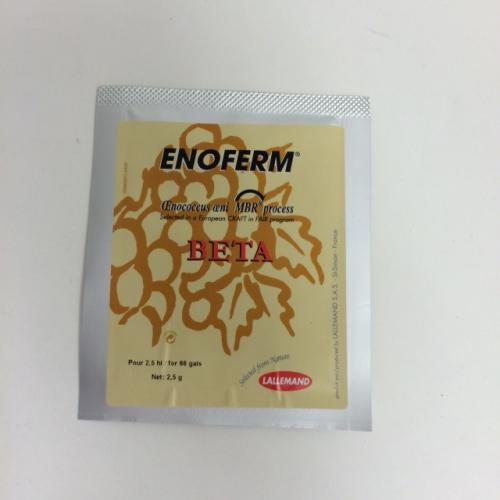 UNAVAILABLE - SOLD OUT FOR 2023 - Malolactic Bacteria Culture - Enoferm Beta - 2.5 g Freeze Dried - Treats up to 66 Gals
Average rating:

Read all reviews

*Pricing Schedule:
Members receive 15% OFF all items, everyday, for the entire year of their membership period.Click for details.
WY66
Malolactic Bacteria Culture Enoferm Beta, 2.5 gr. Freeze Dried. BETA was selected for its excellent activity under difficult wine conditions. It differs from ALPHA by being more fruit forward with varietal character. It is best used to support the tannin structure and red berry fruit, and also to enhance floral aromas by increasing levels of B-damascenone. Potential for production of buttery flavour compounds is low. Maximum alcohol tolerance is 14.5%, total SO2 additions should be below 50 ppm, pH should be no lower than 3.2. Under difficult stress conditions, Acti-ML nutrient (QR38) should be used.
You might also need...
Acti-ML Bacteria Nutrient - 50 g - treats 66 gallons.

Average rating:

Price**

Vertical MaloLactic Chromatography Kit with 6 sheets.

Average rating:

Price**
Specifications
Alcohol Tolerance: 14.5% ABV
SO2 Tolerance: 50 ppm Total
pH Tolerance: Down to pH 3.2
Diacetyl production: low
Max. Inoculation Volume: 66 Gal.
Ideal operating temperature: 57-77 F
Average rating:

Read all reviews
Featured positive reviews:

RobiSonoma Vineyards Owner
09/23/2021
This loyal customer of 40 years easily ordered ml culture, BP confirmed the order with scheduled pick up time. Culture was waiting for pick up in ice box. On time and efficient. Appreciated!
An aside, the ability to browse the isles does limit impulse shopping 🛒