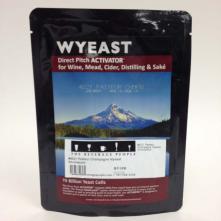 DISCONTINUED - 4021 Pasteur Champagne (Dry White/Sparkling) Wyeast Smackpack

*Pricing Schedule:
Members receive 15% OFF all items, everyday, for the entire year of their membership period.Click for details.
BY10B
Used in many white wine fermentations, meads, and also some red wines. Can be used for fermentation of barley wine and Russian Imperial Stouts. Ferments crisp and dry, ideal for base wines in making sparkling wine. Low foaming, excellent barrel fermentation, good flocculating characteristics.
Specifications
Brand: Wyeast
Strain Origin: France
Flocculation: medium
Temperature Range: 55 - 75 °F
Attenuation: 80+%
Ester/Phenol Production: very low - low
Alcohol Tolerance: 17%