Our Island Harmony Toasted Coconut Porter partial mash extract kit is a vacation in a pint glass. Don't be afraid to brew this dark beer for the summertime! It will pour a clear, dark cola brown with ruby red highlights (when held to the light) and a creamy tan head. Smells milky sweet with fudge, dark chocolate, roasted malts, and toasted coconut. Take a sip. In the flavor are dark brown sugars, coconut, iced coffee, and bitter dark chocolate. The body is light to medium, but not watery. It is balanced, and creamy, with a dry finish. Aloha!
Specifications
OG: 1.065
ABV: ~6.1%
IBU: 36
This kit contains all the ingredients you'll need to make five gallons of beer. You will be following a two stage fermentation system using a plastic bucket as a primary fermentor to contain the beer until heavy foaming ceases. The beer is then siphoned into a secondary fermentor, a five gallon carboy where the beer stays until fermentation is complete.

Be sure you have all the equipment below before getting started. We carry everything you'll need to get brewing.
How to Use
Equipment Needed:
Boiling kettle 4 gallons or larger, made of stainless steel or enameled steel.
A stirring spoon.
Plastic bucket (primary fermentor) of at least 6 gallon capacity and a lid.
A 5 gallon bottle (secondary fermentor).
Fermentation lock and stopper.
Siphon assembly and bottle filler.
55 twelve oz. Beer bottles, or an equivalent amount of larger cappable bottles.
Bristle bottle brush, Cleaner, such as TDC, and Sanitizer, such as BTF Iodophor Sanitizer.
Sieve strainer and a saucepan.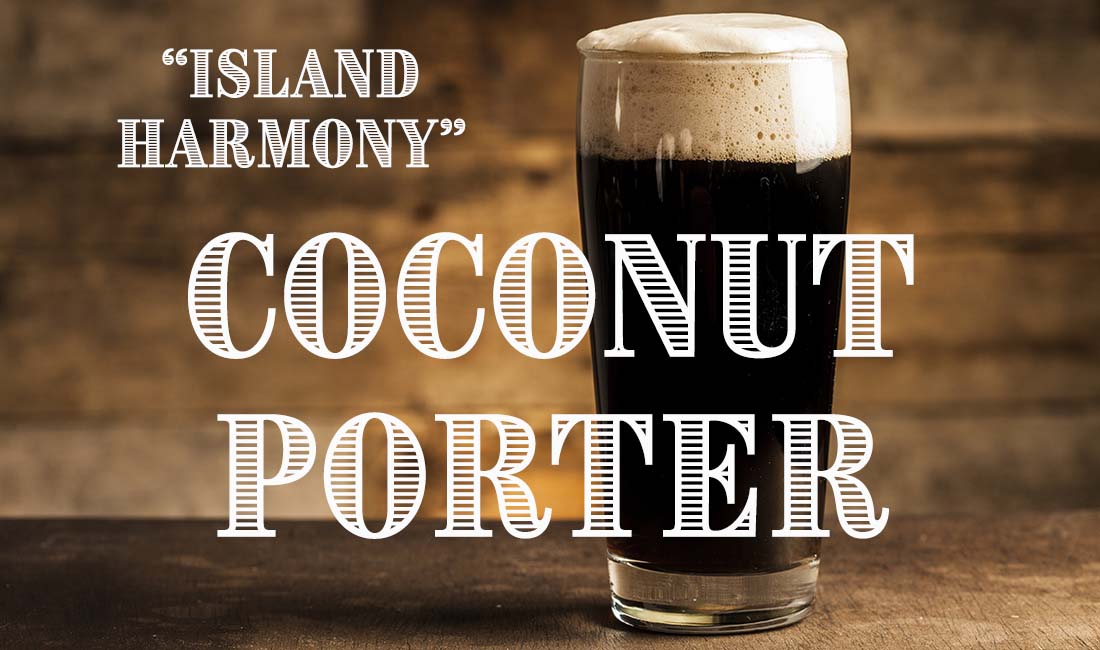 Enjoy an article by Gabe Jackson discussing the process of developing this recipe after taking inspiration from Maui Brewing Company on a Hawaiian vacation.
Materials/Ingredients
8 lbs. Dark Base Malt Mix
8 oz. Maris Otter Malt
6 oz. Pale Chocolate Malt
1 lb D-90 Dark Candi Syrup
1 lb Corn Sugar in the boil
1 lb Shredded Coconut
Brewing Salts
2 oz. Golding Hops (4.5%) (36 IBU) (60 Minutes)
5 oz. Corn Sugar for priming
1 Pack Wyeast 1272 American Ale II Yeast
Shipping Details
AT THIS TIME, WE CANNOT SHIP THIS ITEM DUE TO CARRIER DISRUPTIONS. This item contains live organisms. The USPS is undergoing a planned slow-down in delivery speed. Wiithout a cost effective and reliable carrier of small packages, we are currently unable to ship sensitive, live cultures.