The Curd Herder™ Universal Cheesmaking Equipment Kit contains all the reusable equipment, supplies, and instructions you will need for every new batch of cheese, including instructions, curd handling, the aging environment, optional humidity control and monitoring, and as well as special cheese wrapping paper for the final product.
ADD-ON Specialty Kits to Master Each Cheese Style
When this base kit is paired with one or more of our ADD-ON Specialty Cheese Kits and the appropriate quantity of milk, you will be fully prepared to make several batches of any given style of cheese. Keep expanding your cheesemaking repertoire by adding on Specialty Kits as you master each style. Available ADD-ON Specialty Kits include:
The included book, Artisan Cheesemaking at Home, by Sonoma County local, Mary Karlin, is our favorite book on making cheese and even contains recipes provided by staff of The Beverage People! If you're whey serious about making some curd, we suggest purchasing this kit with the Specialty Cheese Kit for Fresh Chevre for the ultimate starter package.
The Equipment Kit includes the Curd Herder™ Cheese Aging Humidity Box - Complete Set which is a home cheesemakers solution to the challenges of affinage, or cheese aging. Many cheesemaking hobbyists struggle to maintain the appropriate humidity level, drainage, and ventilation of their cheeses during aging. This kit will help you maintain and monitor the humidity of your cheese aging environment. It has been designed to provide simple and effective solutions to the cheesemaking requirements of humidity, sanitation, and ventilation.
---
Recommendations
To get comfortable with your ability to monitor and maintain humidity in the box, we recommend that you work with the box for a week or so before making cheese. Try to manipulate and maintain appropriate humidity for the cheese you want to make. Try a couple different temperatures and see how that impacts the relative humidity (RH). Is the internal fan in your refrigerator causing any impact inside the box? Try with the calcium chloride in the box, and try it without for a couple days. Once you have the ability to set and maintain the proper temperature and humidity for your cheese, you are ready! Remember that when you place a fresh-made wet cheese into the box, the humidity will spike at first. The calcium chloride, along with the drainage system of the box, will help you bring the RH back down in a relatively short period of time.
With proper maintenance of humidity, temperature, sanitation, and ventilation, you are on your way to making world class cheese! Have fun!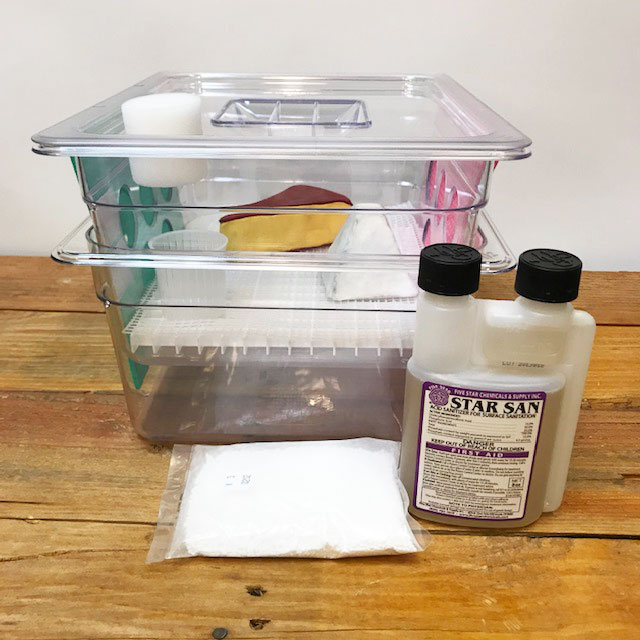 ---