Motorize your Marchisio manual crusher destemmer or replace the existing one. Fits all Marchisio models except WE14. 0.8 HP Motor.
NOTE ABOUT INSTALLATION: If you are converting a manual destemmer/crusher into a motorized unit, some light metal work will be required. The manual crusher has an extended shaft for the manual flywheel, and therefore a hole must be drilled into the housing of this conversion kit to allow it to pass through the housing. Also, it is possible that some cutting (hacksaw or similar) of the internal shield may be needed to fit into place and avoid rubbing on the many shafts and gears that sometimes present minor fitting issues. You may consider hiring our staff to perform the install for you.
Installation instructions for manual WE15 destemmer/crusher:
1. Ensure you have model WE15 Marchisio Grape Crusher/Destermmer.
2. Remove the red metal flywheel (this is the part that you turn by hand with a wood handle). Keep the bolt, it will be needed for the pully that replaces the manual flywheel.
3. Mount the motor onto the bracket on the side of the WE15.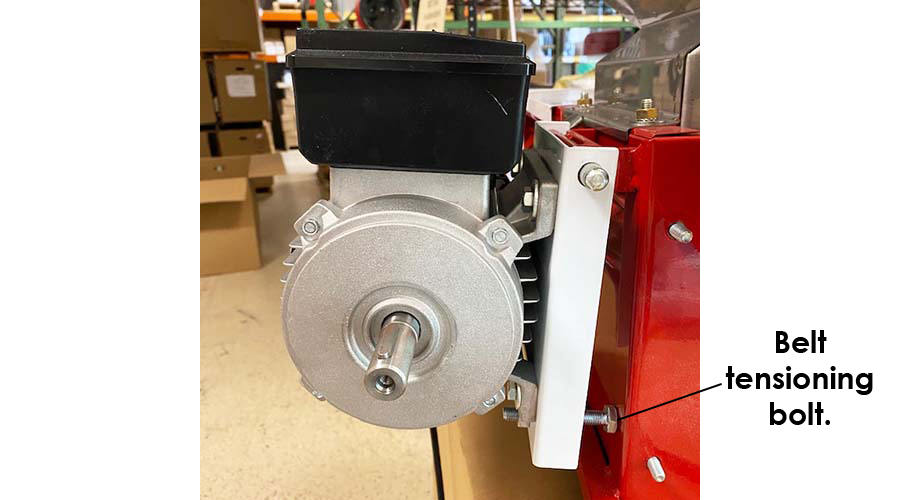 4. Install the pulleys. You may lightly sand the shafts with fine grit sandpaper to make it easier for the shaft to accept the new pullies. The small pulley is installed on the the shaft of the motor. The large pulley is installed onto the bottom shaft of the destemmer as shown below. Use the bolt you saved from the red flywheel to secure the large pulley.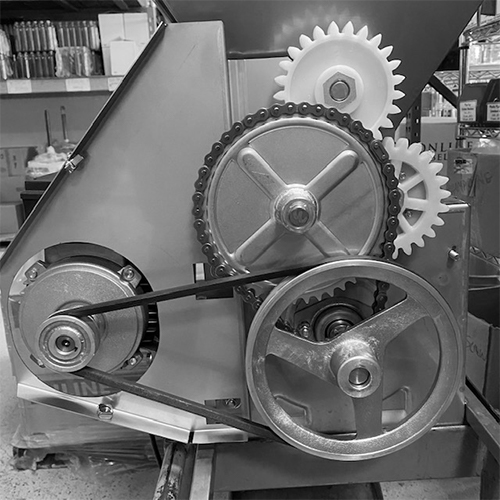 5. Install the inner shield (shown in the above photo). Use the included nuts and washers to secure it. It may be necessary to trim the metal if it rubs against a shaft. Use a hacksaw or rotory tool to trim the metal.
6. Install the belt. To help adjust the tension during installation, you may adjust the depth of the bolt attached to the motor mounting bracket. It is located between motor and the destemmer/crusher sidewall, as shown in the photo in Step 3.
7. Drill a hole in the outer housing for the long crusher shaft to fit through. This shaft is the destemmer shaft, the one the red manual flywheel was attached to. It is longer than the shaft used on a motorized destemmer/crusher, therefore this modification is required. Once the hole is drilled, secure the outer housing using the included bolts, nut, and washer. Again, it may be necessary to trim the metal if it rubs against a shaft.
8. Test out your new MOTORIZED destemmer/crusher to ensure that all part can move freely without conflict.