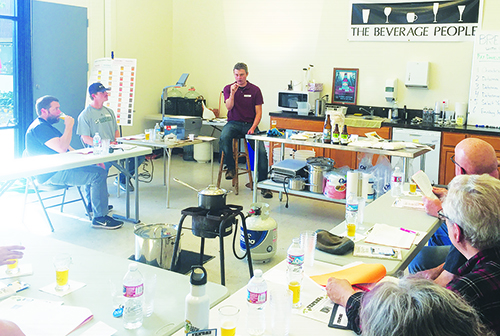 Advanced Mashing Techniques and Practical Water Treatment Class - Saturday, April 28, 2018, 1 - 4 pm

$ *
*Pricing Schedule:
Members receive 15% OFF all items, everyday, for the entire year of their membership period.Click for details.
9479
This is a one day advanced all-grain brewing session during which a 10 gallon demonstration batch of beer will be brewed using a three tier brewery equipped with a magnetic drive pump for recirculation. This class assumes students have a basic understanding of mashing and would like to delve into the wonders of more advanced techniques and theory. Decoction and pump based mash recirculation will be demonstrated. The class will cover the theory of step mashing and decoction, practical water chemistry by way of pH testing and alkalinity adjustment, advanced yeast theory and techniques, as well as kegging. Handouts are included. Beer will be tasted by students 21 years of age or older.
Specifications
Instructors: Gabe Jackson
Date and Time: 04/28/2018, 1-4 PM
Location: The Beverage People Classroom, 1845 Piner Rd Suite D, Santa Rosa, CA 95403
Pickup Locations Available for This Item
The Beverage People Warehouse, Santa Rosa.
Fulfillment occurs Tues - Sat, 11 AM - 5 PM. We aim to fulfill orders in 2 hours or less, whenever possible.
Returns
How to Return Goods for Refund
All our supplies are guaranteed for one year. Request for refunds occurring more than 30 days after the date of purchase on non-defective goods may be granted as a store credit if the goods are returned in their original condition. Yeast is perishable and should be refrigerated on arrival. No refunds are allowed on sales of living organisms such as yeast and bacteria.