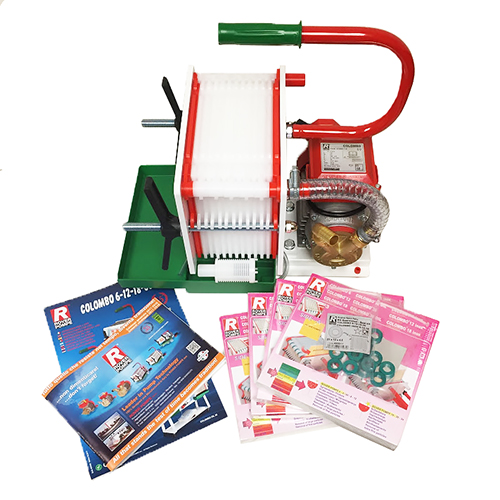 Filter - COLOMBO Mini12 with 12 Plates (20X20cm), 110 VOLT
*Pricing Schedule:
WE107
The Colombo Mini12 Filter, manufactured in Italy by Rover Pompe, is a beverage pump with plate and frame filtering system utilizing 6 plates and 20 cm X 20 cm pads. The pump included has twice the capacity of the Mini6 pump. The wine should be transferred into a clean container before filtering begins in order to prevent the dregs from being sucked up into the filter. The unit comes with two sets of pads for initial use---10 micron coarse, and 0.9 micron fine. Immerse the filtering sheets in water before use to saturate. Allow them to absorb water for at least 5 minutes before installing tightly into the filter. The pump must be primed. You should use water to prime and circulate through the plates while tightening the plates and pads into place. When water is circulating through the pump successfully, you may turn off the unit and move the inlet hose to the wine or beverage to be filtered. The first quart or so pumped through after this will need to be disposed of.
Specifications
Included with the Mini6 Filter:
Instructions Manual
12 plate frame
Brass Head Pump rated for 130 gallons per hour - may be used without the filter as well
Set of twelve pads - 10 micron
Set of twelve pads - 0.9 micron
Inlet coarse filter
Tubing
Pump connectors and 8 spare gaskets
Large handle to allow easy carrying of the unit
Drip Tray under plates
Warranty
The Beverage People provides a 1 year warranty. Manufacturer provides 2 year warranty on material and labor.
Pickup Locations Available for This Item
The Beverage People Warehouse, Santa Rosa.
Fulfillment occurs Tues - Sat, 11 AM - 5 PM. We aim to fulfill orders in 2 hours or less, whenever possible.
Shipping Details
Item is not eligible for FREE or $10 FLAT shipping. Standard shipping rates apply.
Returns
How to Return Goods for Refund
All our supplies are guaranteed for one year. Request for refunds occurring more than 30 days after the date of purchase on non-defective goods may be granted as a store credit if the goods are returned in their original condition. Yeast is perishable and should be refrigerated on arrival. No refunds are allowed on sales of living organisms such as yeast and bacteria.