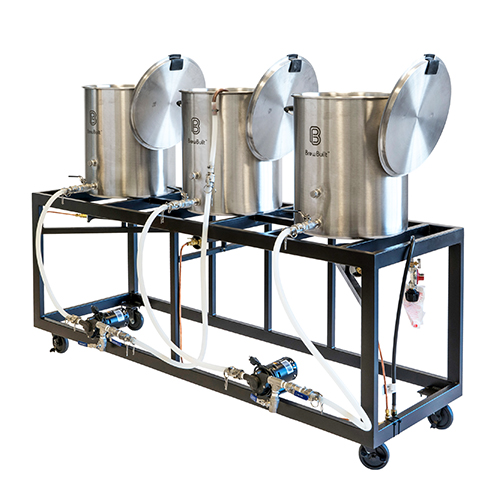 DISCONTINUED - The Iron Forge Horizontal Craft Brewery - Frame with Plumbing and Burners
*Pricing Schedule:
PB31
The Iron Forge horizontal craft brewery is the ultimate setup for advanced home brewers looking for convenience and ease of use, without taking themselves out of the brewing equation. Manufactured by The Beverage People, the Iron Forge was designed and built with our customers in mind. A bulletproof steel frame supports up to three kettles. This version of the Iron Forge is perfect for those on a budget that already own kettles and/or pumps which they'd like to use on the system, or for those who wish to completely customize their setup.
Specifications
The Iron Forge Features:
Heavy duty 1"x2" painted steel frame is built to take any abuse you can throw at it
The frame sits on locking casters on for easing moving and storage
3 Propane burners with full plumbing
Pickup Locations Available for This Item
The Beverage People warehouse, Santa Rosa.

Fulfillment occurs Tues - Sat, 11 AM - 5 PM. We aim to fulfill orders in 2 hours or less, whenever possible.

No Alternative Pickup Locations available for this item.
Shipping Details
Item is not eligible for FREE or $10 FLAT shipping. Standard shipping rates apply.
Returns
How to Return Goods for Refund
All our supplies are guaranteed for one year. Request for refunds occurring more than 30 days after the date of purchase on non-defective goods may be granted as a store credit if the goods are returned in their original condition. Yeast is perishable and should be refrigerated on arrival. No refunds are allowed on sales of living organisms such as yeast and bacteria.