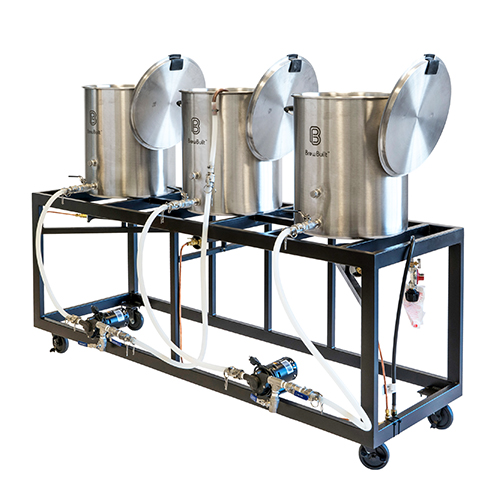 PRE-ORDER WITH 2 MONTHS LEAD TIME - The Iron Forge Horizontal Craft Brewery - Heavy Duty Kettles - 10 Gallon

*Pricing Schedule:
Members receive 15% OFF all items, everyday, for the entire year of their membership period.Click for details.
PB32
The Iron Forge horizontal craft brewery is the ultimate setup for advanced home brewers looking for convenience and ease of use, without taking themselves out of the brewing equation. Manufactured by The Beverage People, the Iron Forge was designed and built with our customers in mind. A bulletproof steel frame supports three spacious fifteen gallon (60 quart), dual-ported, 304 stainless steel clad-bottom kettles which are the perfect size for brewing ten gallon batches. Two magnetic drive pumps with bleeder valves will save your back from lifting heavy kettles of wort or water while giving precise control over flow rates between kettles. Connecting the heat tolerant silicone hoses is a breeze with our cam and groove couplers, which offer the sanitation and security of tri-clover clamps without the price tag. The recirculating return ring and false bottom mash design of The Iron Forge system results in cleaner, clearer wort The Iron Forge is just as at home in your garage as it is serving as a professional pilot brewing system at the local craft brewery.
Specifications
The Iron Forge Features:
Three (3) 15 gallon clad-bottom stainless steel kettles w/ false bottom for the mash kettle
Two (2) magnetic drive pumps with stainless heads
Heavy duty 1"x2" steel frame is built to take any abuse you can throw at it
The frame sits on locking casters on for easing moving and storage
Cam and lock quick disconnect fittings for flawless transfers from kettle to kettle
High temperature silicone tubing is safe and easy to clean/sanitize
Copper wort return ring makes mash recirculation and sparging simple
Pickup Locations Available for This Item
The Beverage People warehouse, Santa Rosa.

Fulfillment occurs Tues - Sat, 11 AM - 5 PM. We aim to fulfill orders in 2 hours or less, whenever possible.

No Alternative Pickup Locations available for this item.
Shipping Details
Item is not eligible for FREE or $10 FLAT shipping. Standard shipping rates apply.
Returns
How to Return Goods for Refund
All our supplies are guaranteed for one year. Request for refunds occurring more than 30 days after the date of purchase on non-defective goods may be granted as a store credit if the goods are returned in their original condition. Yeast is perishable and should be refrigerated on arrival. No refunds are allowed on sales of living organisms such as yeast and bacteria.