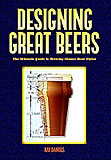 DISCONTINUED - Designing Great Beers - Ray Daniels

*Pricing Schedule:
Members receive 15% OFF all items, everyday, for the entire year of their membership period.Click for details.
BK131
Ray Daniels' book Designing Great Beers: The Ultimate Guide to Brewing Classic Beer Styles is a seminal work which every home brewer should own. This is not a book for learning the brewing process, though Part 1 of the book does address technique and brewing equations. Instead Daniels has focused on illuminating how the fourteen major beer styles have been brewed, both historically and in contemporary settings. Detailed discussions of each style will pique your interest as well as your thirst and Daniels will leave you confident brewing any style. In leu of strict recipes, you will find easy to follow statistical breakdowns of grain and hop bills from an ideal population of brewers from the world's largest homebrewing competition, the National Homebrew Competition or NHC. This approach encourages creativity in recipe formulation while maintaining a guiding hand.
Specifications
About This Book:
Binding: Paperback
Pages: 404
Language: English
Publisher: Brewer's Publications
ISBN: 0937381500
Dimensions: 7.2 in. x 1 in. x 10.1 in.