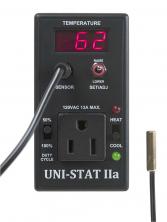 CLOSEOUT - UNISTAT IIa Temperature Controller with Probe - 10-220 F

Members receive 15% OFF all items, everyday, for the entire year of their membership period.Click for details.
On hand: 1
TE47

Refrigerator, Freezer, or Heater Thermostat Controller, 10-220 degrees F. DIGITAL thermostat overrides the appliance thermostat to allow you to control the temperature of a fridge, freezer, or heater. UNI-STAT IIa Automatic temperature sensor fault detection is an included feature, with visual indicator and automatic system shut-off. Also included is flashing ALARM indication if sensor temperature exceeds set-point in COOL mode (or below in HEAT mode) by 5 F or more. Bright 3-digit LED display. An LED indicator will light whenever your cooler (or heater) is in operation. Includes general use sensor probe for applications other than storage, and can be installed in 1/4 thermowell.
Pickup Locations Available for This Item
The Beverage People Warehouse, Santa Rosa.
Fulfillment occurs Tues - Sat, 11 AM - 5 PM. We aim to fulfill orders in 2 hours or less, whenever possible.
Shipping Details
Qualifies for Free or $10 Flat Shipping! To trigger FREE SHIPPING in your cart, ensure you have met the $79 minimum and have omitted any ineligible items that are subject actual shipping charges. To trigger $10 FLAT RATE SHIPPING, simply ensure you have omitted any ineligible items.
Returns
How to Return Goods for Refund
All our supplies are guaranteed for one year. Request for refunds occurring more than 30 days after the date of purchase on non-defective goods may be granted as a store credit if the goods are returned in their original condition. Yeast is perishable and should be refrigerated on arrival. No refunds are allowed on sales of living organisms such as yeast and bacteria.